The Present Perfect


Wie man an den obigen Beispielsätzen sieht, drückt das einfache Present Perfect ein gegenwärtiges Resultat aus.
Es wird mit "have/has" plus dem Past Participle, d. h. der Verbgrundform(Infinitif) und dem angehängten "-ed" gebildet: I have finished my homework.
Bei der Schreibung muss man folgendes beachten:

Stummes -d fällt weg (save > saved); Konsonant nach kurzem Vokal wird verdoppelt (stop> stopped), das Ypsilon wird nach Konsonanten ein i (tidy > tidied) Aber: play > played
Unregelmäßige Verben

bilden ein unregelmäßiges Past Participle

(die muss man alle leider lernen):

Unter "U 15_Gr 3" findet sich eine Liste der wichtigtsten unregelmäßigen Verben.
Fragen im Present Perfect: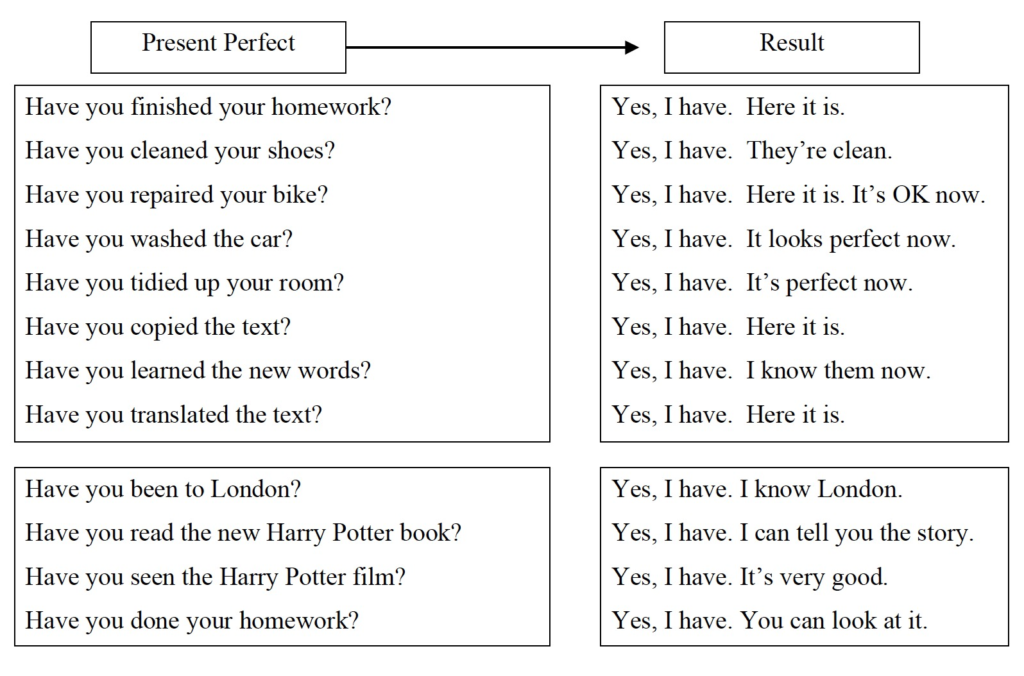 Regel 1:
Das Present Perfect drückt ein Ergebnis aus. Es geht nicht darum, wann man etwas gemacht hat, sondern ob man etwas gemacht hat.
Bei "Have you done the homework?" geht es darum, ob die Hausaufgabe gemacht is, ob sie fertig und vorzeigbar ist.